Have you ever wondered what home inspections look like behind the scenes?
We sure have seen a lot!
An integral part of our work is performing standard home inspections for home buyers and sellers, where we check for structural issues, improper installation, and other potential safety hazards. To better serve our clients, we also offer premium inspection services at no additional cost, like infrared camera inspections and structural pest inspections. Also, we don't charge extra to inspect older properties.
We offer these services because we are passionate about helping all our clients get the resources they need so they can make sound investment decisions.
In Zoom's many years of offering inspection services to homes in the Puget Sound area, we have often encountered inspection situations that either piqued our interest or made us scratch our heads. 
We share these fascinating inspection finds in our monthly newsletter. For today's blog, we're highlighting some of those favorite finds so you can get a glimpse into what it's like being behind the scenes.
Interior and Thermal Imaging
Every once in a while, we come across a toilet that has been incorrectly plumbed with hot water. Our infrared camera caught this cozy seat at 108°F. It wastes energy, but maybe the heated seat is nice!
Electrical System Fixes
We came across this burned out receptacle, and it's a stark reminder to check your smoke and carbon monoxide alarms. Also, take time to develop a plan for emergency escape.
Crawl Space Insulation
Inspecting the crawlspace of a beautiful 1968 craftsman home revealed why the owners were having chilly nights. We found that there was no insulation in the subfloor – but, more importantly, the main distribution trunk of the heating system was completely disconnected. No surprise, it was perfectly toasty in the crawlspace!
New Construction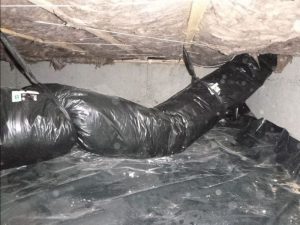 While inspecting a new construction home in Sammamish, we came across this water-filled heat duct in the crawlspace. It was so full that it was straining at the straps and sitting on the ground like a water balloon. Our client was very happy to know about this needed repair.
An Egg-citing Find While Inspecting a Deck
While inspecting a client's deck, we found this robin's nest perched on a beam. Not everything Zoom finds is a detriment to the home. From long lost children's toys to strange plumbing components from a bygone era, inspections can unveil some very interesting items. Old newspapers from the '60s (or older) are some of the most delightful items we discover. Some of the oldest newspapers are from the early 1900s and are usually in Scandinavian – a relic of our region's strong history of Swedish and Norwegian immigrants. The newspapers are often used as an insulating method to block the cold air drafts, but sometimes they are simply collecting dust in the attic.
Zoom Home Inspections performs quick and complete home inspections in Issaquah, Seattle, and throughout the Puget Sound region. Explore our FAQ page and schedule a consultation today!
"I have worked with many inspectors over the years, and Brian is the best. Thorough, very professional, and nice to work with. I highly recommend him."

SUSAN G. | REALTOR | BELLEVUE, WA |